Hair Extension Services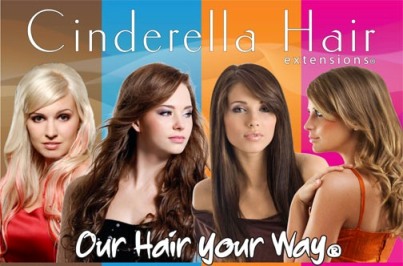 Hair extensions are not just for adding length. You can achieve volume, texture, chemical free color, highlights and color accents all without the use of peroxide. No longer do you have to wait months or even years to have the look and lifestyle you desire. Since 1994 Cinderella Hair Extensions has been committed to excellence by offering quality Remey hair that gives you the confidence and appearance of natural, healthy looking hair.
78 Different Colors
8"- 24" in Straight, Body Wave or Euro Wave
Available in Fine, Medium and Coarse Hair Textures
Cinderella Hair is 100% Remy Hair, which means the hair cuticle is facing in the same direction which prevents tangling and matting. Remy Hair allows the blending with your own hair and gives the appearance of natural, healthy looking hair.
Classic Organic Bond - The most popular form of hair extensions and is recommended for all hair types. By using low levels of heat to soften and contour the classic organic bond around the hair shaft, it encompasses each hair section and when it hardens, it resembles a small piece of rice.
Cinderella Hair Extensions can last four to six months with proper maintenance.
The following (LINK) is a YouTube video on how Cinderella Hair Extensions are applied. This link will take you directly to Cinderella Hair's YouTube page.
Please contact Janet Rivera more information (915-592-0839) or visit www.cinderellahair.com.






Markham Salons
2200 Yarbrough D
El Paso, TX 79925
915-592-0839